It's not every day that you get to talk to an Olympic medalist and definitely not one of the calibre of Canadian women's national team captain Christine Sinclair. Sinclair is relaxing in the board room when I arrive at the Westin Hotel, where she and her handlers were preparing for a flurry of print and online interviews. She had just completed Calgary's morning show circuit earlier in the day, and is clearly a hot commodity.
She was in Ottawa yesterday doing the morning TV and radio circuit; and the day before that she was in Halifax -- all as part of a promotional tour for Tide detergent for which she is the new spokesperson. But for all of the whirlwind activity she didn't appear at all weary and kept our interview light and airy; the complete polar opposite of myself as I was awestruck by her presence, sense of humour and humility.
She admits that all of the publicity has been life-altering. "Life has changed quite a bit, in terms of recognition, and it seems like that for our entire team. I've been fortunate to partner with Tide and Tide Sport (to) get kids involved in sports, and opportunities like this are the result of the bronze medal."
When I congratulate her on her fifth nomination for FIFA's World Women's Player of the Year award on behalf of Waking the Red, she tells me that the news had caught her by surprise; she didn't find out until she arrived at her third interview of the morning at CityTV's Breakfast Television where the crew greeted her with congratulations, and CSA president Victor Montagliani had emailed her his best wishes. Even then, she was quick to credit the entire team for her nomination for the prestigious award.
But most of her praise, she directs to coach John Herdman. Herdman took over a program devastated by a last place finish at the previous World Cup, a result that cost Carolina Morace her job. And now he is one of the ten finalists for Women's Coach of the Year, and award Sinclair says should be a no-brainer for voters.
"He deserves to win the award, that's all. The team that he took over was deflated and broken, and you know...had no chance of winning a medal at the Olympics, and he completely changed that around, and gave us confidence, and just brought the fun back."
It's easy to see what Sinclair is talking about; the joy that we all saw on TV and computer screens across Canada when Diana Matheson scored the winning goal is still evident on her face. But the joy cannot hide the fact that Canada still has a lot of work to do to keep those emotions alive.
"You saw in the Olympics there are a lot of talented teams out there, and knowing we have a couple more years with John (Herdman) before the World Cup happens is exciting...we finally know now how to win. We've finally crossed that line into getting onto a podium, and it's contagious!"
Despite the result of that infamous match in Manchester and the words that came after, she harbours no grudge against the eventual gold-medal winning American team that starts her greatest natural rival, Abby Wambach, whom she simply heaps praise upon.
"Our careers have sort of mirrored each other in terms of games played, and goals scored. We played against each other in university, so we've sort of grown up together, obviously on different teams...and the rivalry between Canada and the US, it just makes it so much bigger, and my hat goes off to her...she's a tremendous goalscorer."
It was around this point that I made a clumsy attempt to ask her about Megan Rapinoe, who is a former Portland University teammate of hers. The words didn't come out the way I had intended, but Sinclair just laughs off the question and says that she's know for awhile - she again exhibits her grace and diffuses a potentially awkward moment in our interview - is there anything she can't do?
We then talk about the proposed new women's pro league (which is said to include Canadian teams), that is rumoured to be starting up next year. With the now defunct WPS a glimpse of what could be; Sinclair looks at the potential new league as the perfect scenario to not only grow the game but to create and build team chemistry going into international competition.
But she also has a message for MLS teams (like TFC) to get behind the new league to prevent history from repeating itself. "One thing that the WPS has learned, that similar to the WNBA, it needs to be tied into the male professional sport. So hopefully if this league were to happen, it can get tied into the MLS franchises throughout North America, just to help build it (the women's side of the game.)"
Having the next World Cup being played on home soil definitely puts an exclamation mark on the need for such a league, but Sinclair feels that having the tournament at home will boost the game regardless. She recalls the opening game from the previous tournament, playing in front of 80,000 people at Berlin's Olympiastadion and hopes that Canadians will turn out in those numbers. But for that to happen she knows that she and her team must keep the momentum that they've built over the past year.
"The sport of soccer, especially on the women's side, has never been in a better spot -- But if we keep it going, hopefully we can do well at the World Cup, and it'lll continue to grow."
Before any thought goes towards that day, she's taking a coach-mandated break. Herdman had asked his team to "get away from the sport" for a while after the Olympics, given how hectic the next few years could be. The next training camp is not until December, when preparations for the Four Nations gets under way (FIFA's suspension will likely mean she will sit out the tournament.) But with that camp still a month away, Sinclair has heeded his advice, and has enjoyed the break, which according to her Twitter, included a move into a new home -- and this tour.
As for playing professionally?
"I''ve been contacted by quite a few clubs in Europe, but sort of been telling them (that) I'll make my decision after I hear what's happening in North America first – ideally, I'd like to stay close to home."
That definitely explains why rumours of her heading to Germany to join FFC Frankfurt, a leading women's Bundesliga team, fizzles as fast as it was created.
With my last question, I asked if she had any final words to say, and once again she is gracious in her answer, a far cry from some of her critics' charges.
"A massive thank you...for all the support throughout the Olympics, and post Olympics, the FIFA suspension, the support has been fantastic. And hopefully we can bring home another medal at the World Cup."
And with that our time had ended. But not before a photo for posterity and then it was time for her next interview. I wished her well, knowing this will likely not be the last time our paths will cross. And who knows? Maybe that next time, I will be greeting a three-time World Women's Player of the Year and World Cup winner. With Sinclair, nothing is impossible for Canada.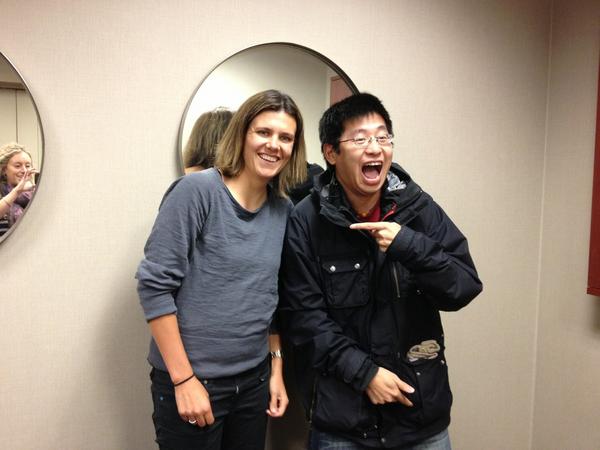 The author, hamming it up with the Olympic medalist.
(Special thanks to Crystal Kwon at Citizen Optimum for accommodating, Sincy for being such a good sport, and to Kristin Knowles for her editing work!)