MLS has a new partner in the collectibles World. Their new deal with Topps will have nothing to do with the on-field product or the way that fans watch the game but it does help the league take another step into the traditional North American sports market. The trading card market is not quite as big as it once was among sports fans but it is still an enjoyable pastime for many fans and now MLS may be in position to delve deeper into the market.
In the past MLS trading cards have been produced by Upper Deck but there was very little value to the series. The cards were not all that collectable and have not seen much of an increase in value over the years but that might just change with the league now partnering with Topps.
Topps have not produced a series of soccer cards for the North American market recently but they have been doing some nice work for collectors in Europe over the years. Their return to the North American market with the 2013 MLS series should be exciting for MLS fans. With the new partnership being for multiple years it will give Topps time to grow the brand and Topps will be hoping to cash in on the rising popularity of MLS.
In interview with Beckett about the partnership Topps Brand Manager Jeff Heckman was quick to offer praise of the league for its growth and also seemed genuinely interested in using the exclusive rights to produce more than just a basic trading card set like happened with Upper Deck. That could mean the introduction of sticker sets, other collectibles, or even multiple trading card series with items of higher value.
"I just think it's a league that is really on the rise," Heckman said. "Soccer is an interesting place for us right now. As far as professional leagues, it's always a bit slower. But with fan support and adoption, I think you have seen it grow in the last five to 10 years."
"There is nothing we are ready to release. But you have seen some of the things we have done in baseball. We are looking at those types of products."
If Topps treats MLS as more than an afterthought it will be very exciting news for MLS fans who are looking for even more collectibles. Their initial offering is set to be released on July 15, 2013 and that set will include a decent number of Toronto FC players.
That initial offer will be available in in Hobby Boxes that will include 24 packs of 10 cards each. There will also be two autographs and three relic cards in each box. Some of the more exciting sub-series will be SuperDraft autographs and MLS Maestro Autographs which will feature some of the leagues brightest young stars as well as the top players. They will also offer a number of variations on cards that will feature a number of limited runs.
This years base set (may change before release) will include a variety of TFC players but some of the names that did not make the list may surprise fans of the club. The current list is Ashtone Morgan, Danny Califf, Danny Koevermans, Darren O'Dea, Hogan Ephraim, John Bostock, Joe Bendik, Reggie Lambe, Richard Eckersley, Robert Earnshaw, and Terry Dunfield. The lack of players like Luis Silva, Stefan Frei, Doneil Henry, or Matias Laba may be rectified before the series is released but what should surprise a lot of fans is that Topps have included a number of players who are on loans with Toronto and those deals end before the mid-July release of the series.
TFC also gets some love in the sub-sets with a number of autographs and shirt cards available for fans to collect. The SuperDraft autograph series will include both of Toronto's first round selections as Emery Welshman and Kyle Bekker make the cut for the 8 player set. Fans will also be able to get John Bostock and Danny Koevermans autograph cards as part of the MLS Maestro Set.
The set will also include a "This is Soccer" sub-set with Robert Earnshaw and John Bostock making the cut. Bostock will also be included in the minis set while Danny Koevermans will make the relic set which will include a sample of one of his shirts.
The final Toronto FC card available in the series will be part of the MLS Rivalries sub-set which will feature the club's rivalry against the Montreal Impact.
As someone who has collected hockey cards for years and always wished there was more available in terms of soccer collectables this series is certainly an exciting development.
Beckett's look at the new series includes a number of photos to help pique your interest.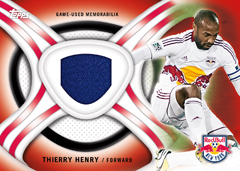 So what are your thoughts? Planning on picking up some new trading cards or is that not your thing?