Las Vegas odds-makers SuperBook have released their prospectus for the upcoming MLS season, placing Toronto FC in a four-way tie for the sixth-most likely club to contest for this season's MLS Cup.

Toronto comes in, alongside Red Bull, Columbus, and strangely New York City, with a healthy 15/1 chance, trailing five other clubs – Los Angeles, Seattle, New England, DC, and Salt Lake - who have all been given a higher likelihood of hoisting the cup come next December.

The full list of odds are contain in the tweet below:
The @LVSuperBook has posted @MLS title odds for 2015. LA, Seattle, New England favored: pic.twitter.com/TpkaAt5zYX

— Paul Carr (@PCarrESPN) February 16, 2015
Or, if one cannot be bothered to click: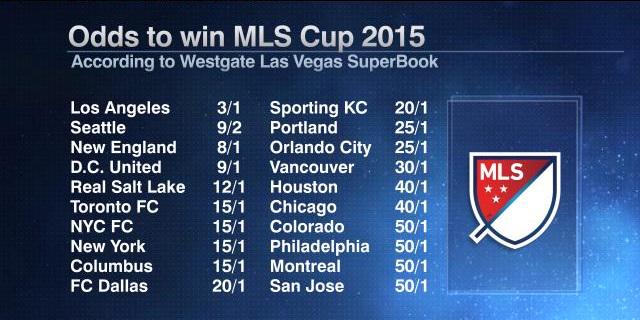 Fellow Canadian sides Vancouver and Montreal are far adrift of the contenders, sitting on odds of 30/1 and 50/1, respectively. The Whitecaps face a very difficult Western Conference in their quest for the silverware, while the Impact have apparently not done enough to make amends for last season's disappointing campaign.

It comes as no surprise that LA top the list with odds of 3/1 – they have won three of the last four after all – but Landon Donovan's retirement leaves serious question marks over their season, at least until Steven Gerrard arrives midsummer.

Seattle, perennial bridesmaids out of the West, factor second with odds of 9/2, before a pair of Eastern Conference teams round out the top four with 2014 MLS Cup Runner's Up New England at 8/1 and defending Eastern Conference Champions DC United at 9/1.

Salt Lake, somewhat unexpectedly, ranks fifth in the early season projections with a projection of 12/1 chances of retaking their lofty place as the darlings of the league.

A quick cross-reference with last season's odds – which can be found here – convey just how quickly a team's fate can change, as Sporting KC, Portland, and Houston drop out of the top spot, while New England and DC catapult from irrelevance in 2014 into the pool of potential winners.

TFC meanwhile have seen their odds lengthen ever-so slightly from 14/1 to 15, despite the busy offseason that saw Jozy Altidore and Sebastian Giovinco join the side in another high-profile round of acquisitions. That said, it is still a mighty jump from the 2013 odds that had them pegged to the bottom of the league as 66/1 longshots.

It seems even the Vegas odds-makers have learned that when TFC is involved, it is safer to hedge one's bets, waiting to see how the season plays out, before getting overly excited by the club's stratospheric aspirations.